Copper Finned Tube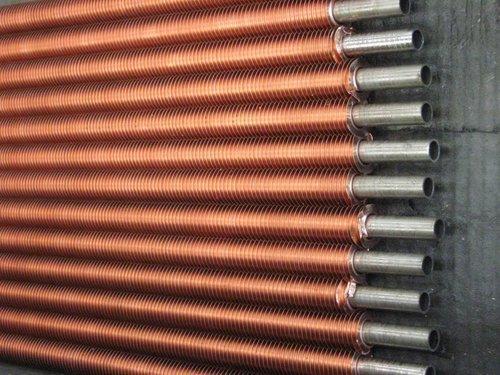 Copper Finned Tube
Product Description
Finned Tubes: Finned tubes are the main components of heat exchangers. They are a series of tubes where fins have been added on the outside to increase the contact area with the outside fluid, to exchange heat and between the fluid inside the tube and the fluid outside the tube.
Copper Finned Tube: Copper Fin Tubes are processed out of good Quality plain Copper Tubes. Copper Fin tubes are used generally for various Heat Exchanger Applications viz. Condensers, Evaporators, Chillers, Economizers, Oil Coolers, etc. Copper DHP Fin Tubes are extensively used in sugar refineries for condensers and evaporators. Deoxidized copper is the standard material for transferring heat from steam to water or air because of their excellent resistance to corrosion by fresh water and their high thermal conductivities. Copper Finned Tubes are mostly used in heat exchangers for applications for cooling and heating of liquid and gas, including water, oil, steam and air as well as for condensation, evaporation.
Cupro-Nickel Finned tube: Cupro-Nickel Fin Tubes are processed out of plain Cupro-Nickel Tubes. 90:10 Cupro-Nickel exhibits excellent resistance to impingement attack. This alloy is suitable for Marine condenser tubes, especially where higher water velocities are encountered. 70:30 Cupro-Nickel has in general, the best resistance of any of the copper alloys to impingement attack and to corrosion from most acids and waters. It is being used in severe corrosive conditions in which service lives longer than those of other copper alloys are desired.
Stainless steel finned tube: Stainless Steel Fin Tubes are processed out of various Grades of both Seamless and Welded Plain Tubes. Stainless Steel is choice to a variety of manufacturers, because of the characteristics such as Good corrosion resistance, High Strength, Malleability, Easy Maintenance. Stainless Steel is a choice material in industries such as: Aerospace, Appliance, Architecture & Construction, Automotive, Chemical Processing, Electronic, Food Service, HVAC, Medical, Marine, Power Generation, Oil and Gas, and Tool and Die.
Trade Information
20000 Per Week

15-20 Days
Contact Us
47, Balkrishna Niwas, Shop No 20, 3rd Panjrapole Lane, Gulalwadi Mumbai Maharashtra India 91-22-67521118 /1119
Phone :09619994756